Weekend Swap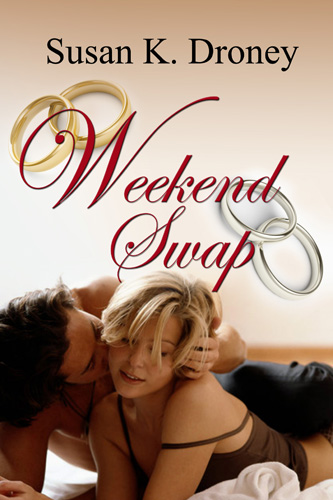 Published by Torrid Books
EBook Formats ISBN: 978-1-61160-161-9
Tyler Thornton convinces her strait-laced best friend Kay Reagan to swap husbands to add some excitement to their sex lives, or in Kay's case, to show her what she's been missing. What Tyler doesn't know is the deep dark fantasy that Kay has been harboring for years.
Purchase From:
Torrid Books
Simon and Schuster
Amazon
Barnes & Noble
Google Play
Kobo
BAM
Kay smiled. "My fantasies definitely don't take me that far."
Tyler's eyes narrowed. "Mine do and I'd like to make them a reality," she stated bluntly.
"You're joking aren't you?" Kay's jaw dropped. "You'd sleep with another man?"
She studied the shocked look on her friend's face and flashed her a bright smile. "No. I'm not kidding, I'm serious."
Kay picked up her coffee cup and held it between her palms. "Come on, you're teasing, right?"
"No, I'm deadly serious." She sighed deeply. "Sometimes it's good for a marriage."
Kay's eyes narrowed. "It's cheating plain and simple. How can that be good for a marriage?" She gazed uncomfortably at Tyler. "You of all people, Tee, I would never imagine as a cheater. You and Will have such a rock solid loving relationship."
She tossed her head. "No, it's not cheating if your spouse is a part of it. And Will and I do have a strong committed relationship. I could never imagine being apart from Will. He's the love of my life."
"Then you mean wife swapping?" she choked. "Or swinging? Whatever it's called."