Torrid Teasers 53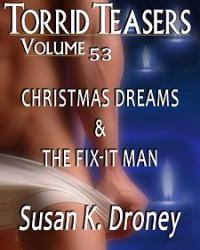 Published by Whiskey Creek Press Torrid
ISBN: 978-1-60313-296-1
Cover Art: Jinger Heaston
Christmas Dreams
Morgan and Davis have been best friends since they were children and even Davis' move to Maine didn't affect their deep friendship. When Morgan's relationship with her fiancee falls apart, at Davis' urging, she moves to Maine to make a fresh start. She soon realizes that her feelings for Davis run much deeper than friendship.
The Fix-It Man
When Madison meets the new maintenance man, she uncharacteristically tries to seduce him. When her efforts backfire, she thinks she doesn"t stand a chance until he comes knocking on her door.
Purchase
Whiskey Creek Press Torrid
All Romance Ebooks
Barnes & Noble
Excerpt From Christmas Dreams
A gentle hand touched her shoulder causing her to jump. "I'm sorry. I didn't mean to startle you." Davis laughed.
Morgan grinned up at him. "This is a great party. I'm glad I came."
"Thanks." His eyebrows knitted together. "There are a couple of guys interested in getting to know you. What do you think? Are you ready to start dating again?"
She frowned. "I'm sure they're nice, but I'm just not ready, Davis."
He nodded. "I figured as much, sweetie, so I let them down gently. But you do look hot tonight. Dressing like that, what do you expect a guy to do?"
She knew she was attractive, but she wasn't vain. Her blond hair was shoulder length, eyes green and she had a good figure. She was wearing a tight black skirt, pink blouse and heels. "What would I do without you?"
"You'll never find out," he said as he pulled her to her feet. "Would you like to dance?"
She smiled, looking at the dance floor. "I don't think another couple could squeeze in."
Excerpt From The Fix-It Man
Lucy blushed. Her pretty face turned a bright shade of pink. "Hey, I'm free and single."
"We know," Madison said with a wink to Gwen. Lucy's sexual escapades were notorious, at least to Madison and Gwen. She had a voracious sexual appetite and loved sharing the intimate details of her encounters. If they weren't so fond of Lucy they might have been appalled. But her recreational sex didn't label her a slut in their minds.
Madison had lived in Tarvan Towers for a year before Gwen and her husband Kyle moved in. Lucy moved in two years ago. Her bubbly friendly personality was what had attracted them to her. Madison lived a solitary life and dated little. Gwen's free time was spent doting on Kyle unless he was away on a business trip. That's how she'd first met Gwen. They'd been doing laundry and had begun chatting. When Lucy moved in she knocked on both their doors insisting that she liked to know the neighbors living on either side of her. Ever since the three had become instant friends.
The elevator stopped and the three women stepped off. Lucy continued babbling all the way to the parking garage. "I swear he was only in the storage room for ten minutes before he was inside me."
Madison's face flushed. "Sorry, Luce, but I like to know the man I'm sleeping with."
"Come on, Maddy, how long has it been since you've had any?"
Too long. But Madison wasn't about to share that fact with Lucy.